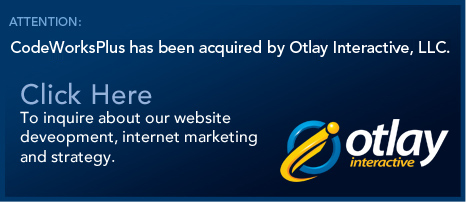 The Code Works Plus team is dedicated to providing you with the best of what the web has to offer. Our dedicated professionals are skilled in a number of resources, bringing to our customers an extensive variety of knowledge and expertise for virtually any task.
With a multitude of experience, there are few jobs that our highly trained team of experts can't handle. Whether you're looking to take an aggressive jump on the competition with a professionally designed, business class website, or a simple but effective design to get your name out there, the Code Works Plus team is able to rise to the challenge and bring you and your business that edge that you've been searching for.
While websites are one of the services we offer, it is by no means the only one. Whether you're looking for help operating a server, building a custom program, maintenance on an existing script or website, our team can provide an affordable solution to satisfy all of your needs. For project price estimates please use the above contact link to speak with one of our staff members.
We appreciate your interest in our services and wish you the best.
-The Code Works Plus Team


What do our clients say?

I interviewed around 15 professional coders and freelance coders before I decided to work with CodeWorksPlus. They understood my project requirements very well and were able to come up with innovative ways to improve my application. They had no problem answering my questions and were always available to send me progress updates. I highly reccommend CodeWorks. They were a pleasure to work with and I am convinced I got MORE than what I paid for.

-Alex M