Our Portfolio
Welcome to the Code Works Portfolio. Here you'll find some of our latest works and goodies. Some of our clients are big and have lots of needs, and some of our clients are mom and pop shops looking to grow their business. You'll probably fit somewhere in between, but no matter the size of the project, we're there for you. Take a look through some of our work, and please, don't touch the railing, it's fresh paint.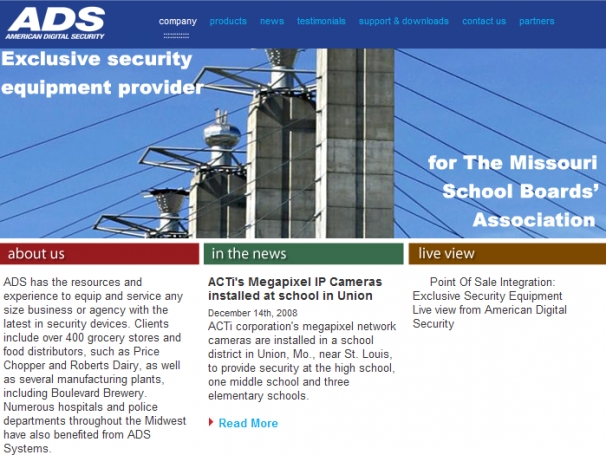 Services Provided: Design, Web Software Development, Flash
"Providing elite commercial and residential security system products and installation"
CodeWorksPlus provided American Digital Security (ADS) with a custom built site that mirrors the top quality services offered by ADS. CodeWorks built a site that included custom software, design, flash and marketing tactics to insure ADS got the most for their money.
The site allows visitors to view the newest products and testimonials as well as download the latest in security camera software directly from ADS. All of these custom features are fully accessible through the use of the custom administration panel. The administration panel was custom built to suite the needs of ADS and their staff alone. This allows even people who are not so computer friendly to access and change information on the site within minutes.

What do our clients say?

Working with Code Works the last couple of years has been phenomenal! The work has been top quality and I've always had great service and ease getting ahold of their guys if I needed something. Definitely a company I'm glad I found, and I will continue to use their services for my upcoming projects and any work I need done in the future!

-Adam J