Our Portfolio
Welcome to the Code Works Portfolio. Here you'll find some of our latest works and goodies. Some of our clients are big and have lots of needs, and some of our clients are mom and pop shops looking to grow their business. You'll probably fit somewhere in between, but no matter the size of the project, we're there for you. Take a look through some of our work, and please, don't touch the railing, it's fresh paint.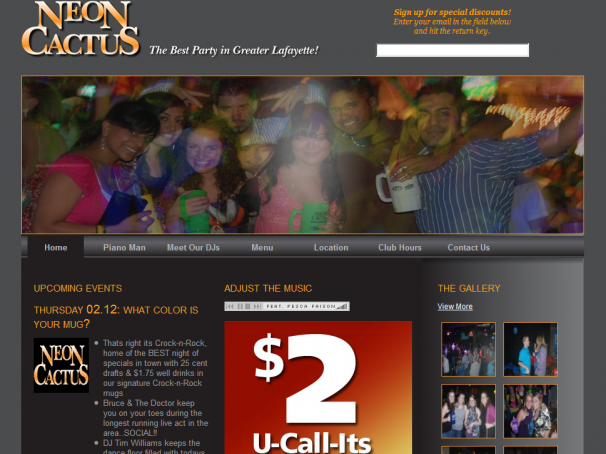 Services Provided: Design, Flash, Image loader, Dynamic adminsitration panel
"Supplying the best night life experience West Lafayette Indiana has to offer"
If you ever have the urge to cut loose, lay back and have a good time, Neon Cactus is the place to be. With the latest in popular music, and drink specials that are out of this world Neon Cactus has made a name for themselves that is above the rest.
We helped them in their business venture but revamping their site. With a brand new design, layout and flash header Neon Cactus now not only runs the bar scene, but is a top runner in the website industry as well

What do our clients say?

Working with Code Works the last couple of years has been phenomenal! The work has been top quality and I've always had great service and ease getting ahold of their guys if I needed something. Definitely a company I'm glad I found, and I will continue to use their services for my upcoming projects and any work I need done in the future!

-Adam J