Our Portfolio
Welcome to the Code Works Portfolio. Here you'll find some of our latest works and goodies. Some of our clients are big and have lots of needs, and some of our clients are mom and pop shops looking to grow their business. You'll probably fit somewhere in between, but no matter the size of the project, we're there for you. Take a look through some of our work, and please, don't touch the railing, it's fresh paint.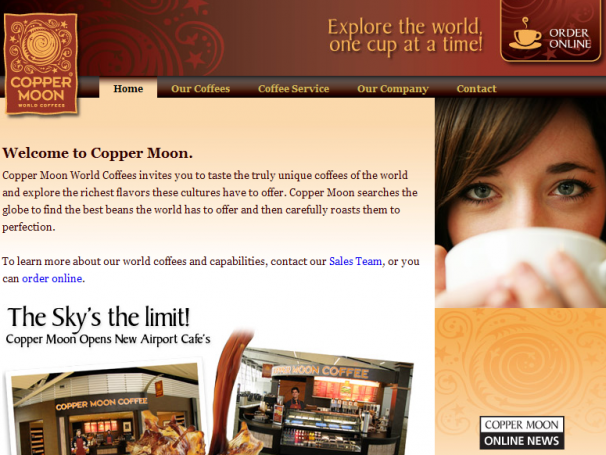 Services Provided: Search engine optimization, Ecommerce credit card proccessing
"Giving customers the one of a kind coffee experience that is second to none"
The fresh smell of grounds in the morning is something that Copper Moon has been using to help eliminate "the Mondays" in offices around the state. With help from us, Copper Moon has been able to reach more people than ever by taking their business to the web and we've given them the ability to ship worldwide.
We are helping them get noticed every day with our Search Engine Optimizations, maybe one day you'll reach for a cup and notice the Copper Moon logo on the bag.

What do our clients say?

God Bless the minds behind codeworksplus, this site has "filled the bill" for me, it has brought the fine details of formatting, web designing, friendly user tools to a new level, in my business of Tourisum-- I work with a number of different clients on financial matters, reservations scheduling, and catering of every kind. Codeworksplus came through for me every time, I was a frequent user of another site, where there were any number of set backs, as a result--my responses to clients were delayed however-- so I decided to try codeworksplus, and boy did i kick my self for not trying them before, I highly recommend codeworksplus to any one who are looking for the best in service, professional advice, and candor recommendation.

-F. Ferguson